TIANJIN (Beijing Cultural Forum)
Stefanie Moshammer
WE LOVE OUR CUSTOMERS
Stefanie Moshammer has been carrying out the long-term project WE LOVE OUR CUSTOMERS since 2017. The artist broaches the complex relationships between the fashion industry, mass fashion, and human obsession. Her work oscillates between irony, youthful aesthetics, and a critical approach, always with a sharp, artistically keen eye.
The subtlety and fine criticism of her work make it particularly suitable for presentation in China, a nation of mass fashion production. Or at least the jury of On the Road Again considered these associations to be particularly interesting.
WE LOVE OUR CUSTOMERS is a compendium of videos, digitally composed textile collages, and site-specific sculptures. Unfortunately, due to China's enduring stringent Covid travel restrictions, Moshammer herself has not yet been able to travel to the People's Republic. She instead sent her works, which, with the help of the Beijing Cultural Forum, were shown in late autumn 2022 at the Yuan Art Museum in the coastal city of Tianjin in the north of the country.
​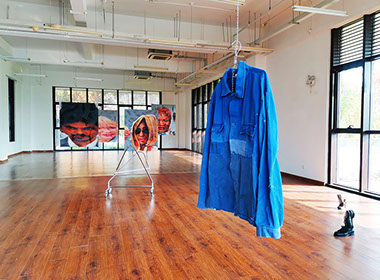 Exhibition view WE LOVE OUR CUSTOMERS, Yuan Art Museum-Wuqing, Tianjin, 2022
© Yuan Art Museum-Wuqing/Tianjin/CN
​
Exhibition view WE LOVE OUR CUSTOMERS, Yuan Art Museum-Wuqing, Tianjin, 2022
© Yuan Art Museum-Wuqing/Tianjin/CN
​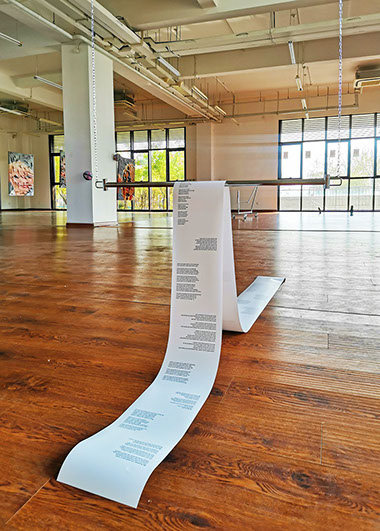 Exhibition view WE LOVE OUR CUSTOMERS, Yuan Art Museum-Wuqing, Tianjin, 2022
© Yuan Art Museum-Wuqing/Tianjin/CN
​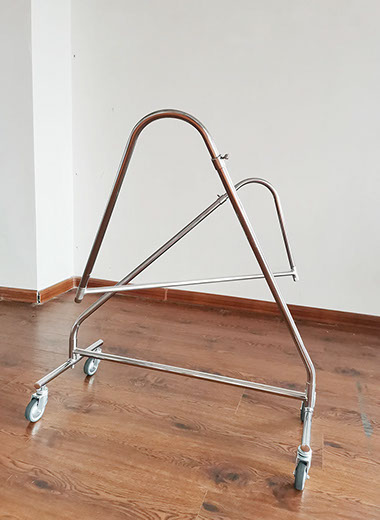 Exhibition view WE LOVE OUR CUSTOMERS, Yuan Art Museum-Wuqing, Tianjin, 2022
© Yuan Art Museum-Wuqing/Tianjin/CN
​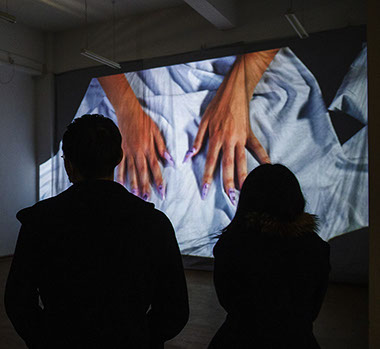 Exhibition view WE LOVE OUR CUSTOMERS, Yuan Art Museum-Wuqing, Tianjin, 2022
© Yuan Art Museum-Wuqing/Tianjin/CN
​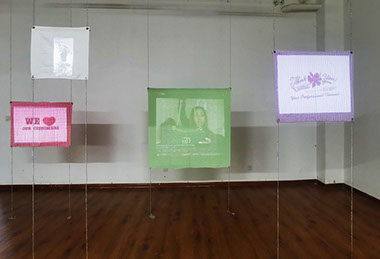 Exhibition view WE LOVE OUR CUSTOMERS, Yuan Art Museum-Wuqing, Tianjin, 2022
© Yuan Art Museum-Wuqing/Tianjin/CN
​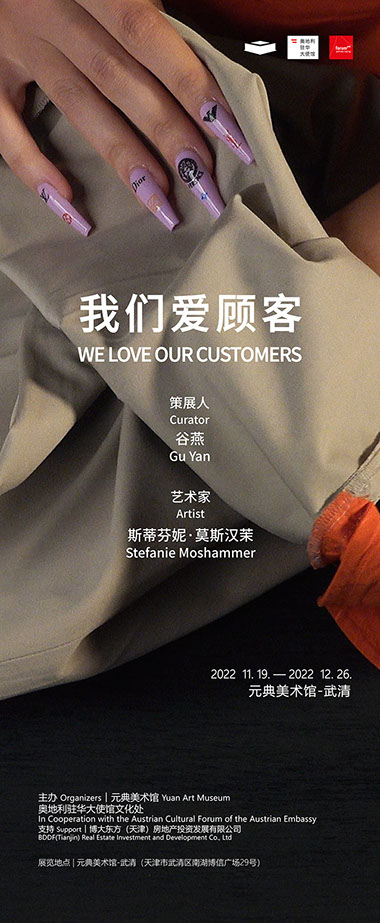 Exhibition poster/ roll-up design WE LOVE OUR CUSTOMERS, Yuan Art Museum-Wuqing, Tianjin, 2022
© Yuan Art Museum-Wuqing/Tianjin/CN