ROME
Rainer Prohaska
ALL ROADS LEAD TO ROME or
A "SUITABLE" SUITCASE
The starting point of Rainer Prohaska's project is one the artist has been working on over the last 20 years, the ENDLESS TOYKIT COLLECTION. The collection is a pool of materials made up of over 1,000 unique "ready-made" modules that the artist repeatedly configures into new and different installations. The collection of materials defines itself as an ecological art concept, as objects are occasionally added, but nothing is ever thrown away or disposed of. It is an endless chain of recycling processes that neither creates waste nor promotes the consumption of new products.
For the project in Rome, one-metre-long wooden profiles were strapped together to make 18 pieces of luggage, which were then transported as "trolleys" in a single train compartment the artist booked, filling up the room. The transport itself was mutated into a performative act, documented as the actual main part of the artwork using video
and photography. Upon arrival in Rome, the artist dismantled the trolleys into their individual pieces and then rearranged them into one giant suitcase. This oversized suitcase symbolises the workarounds necessary to travel in an ecologically responsible manner.
​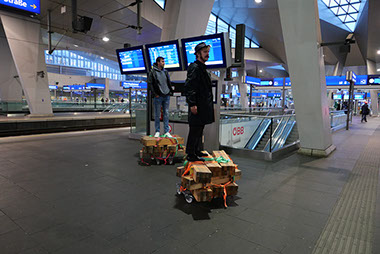 Delivery Vienna–Rome, ALL ROADS LEAD TO ROME or A "SUITABLE" SUITCASE, 2022
​
Delivery – Loading – Transfer – Return, ALL ROADS LEAD TO ROME or A "SUITABLE" SUITCASE, Vienna/Rome, 2022
​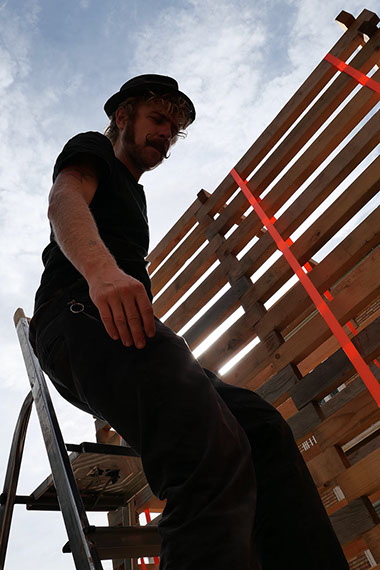 During the set-up of ALL ROADS LEAD TO ROME or A "SUITABLE" SUITCASE, Rome, 2022
​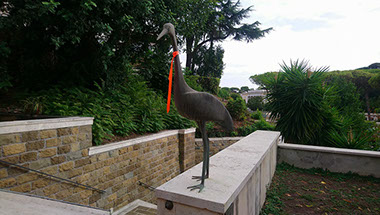 Exhibition view ALL ROADS LEAD TO ROME or A "SUITABLE" SUITCASE, Austrian Cultural Forum Rome, 2022
​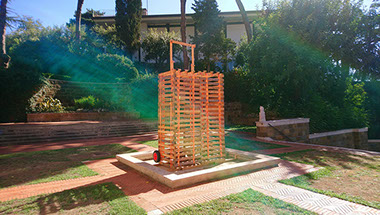 Exhibition view ALL ROADS LEAD TO ROME or A "SUITABLE" SUITCASE, Austrian Cultural Forum Rome, 2022